I have had the privilege to spend the last four months in Rome, Italy and have been able to experience not just the culture of the italian people, but their war-gaming culture as well. I thought maybe I'd share some thoughts about both american and and italian wargaming as i have experienced them. apologies for the length and rambling if you're against those sorts of things.
Warhammer in the US seems fundamentally dedicated to the tournament circuit. I know there have been some discussion about it dying out now that GW has pulled it's support, but that's never going to happen, the culture won't allow it. Games in general are constant tweaks of "all comers" lists, trying to get the most powerful cost efficient army on the board. Loopholes in the rules are actively sought out to be exploited to one's advantage ( i remember a particular match in canada in which a Tau player was claiming to move his hammerheads in 12" circles, returning to their point of origin and thus without physically moving in space they were still able to fire and had their cover saves). The more prominent figures in the hobby often come off as elitists. Lately i've been listening to 40k radio, and one of the guys honestly said that if a player came to the table with an unpainted army or a few proxies, he would refuse to play him and tell him to go home. (now i know these guys aren't necessarily supposed to be role models, but they are some of the major voices for the hobby. most people that fit the demographic he described are relatively new ones. not exactly an inviting statement. hell, i still have to do both and i've been playing for two years). Other personalities such as [certain individuals on certain forums] openly hurl insults at the players they feel are inferior while presenting the world with mathematically perfect lists, who's only flaws are operator error. Outside of tournaments and games that are tournament prep, we have apocalypse. it is most often a once a year affair for gaming groups, and truly massive armies come out to play. It's a get together of buddies to roll dice, eat meat, and drink beer. The association of apocalypse with drinking beer is actually kind of telling, it points out that warhammer in the states seems to be a gentleman's hobby. The key demographic or current players are guys who were just hitting their teens in the mid to late 90's (xbox and playstation) and have grown up with the hobby.
Age is the most striking difference here from back home. I attended the WH40K 25th anniversary at one of the local GWs, and i'm almost certain i was one of maybe 8 people that were over 18... but the place was still packed: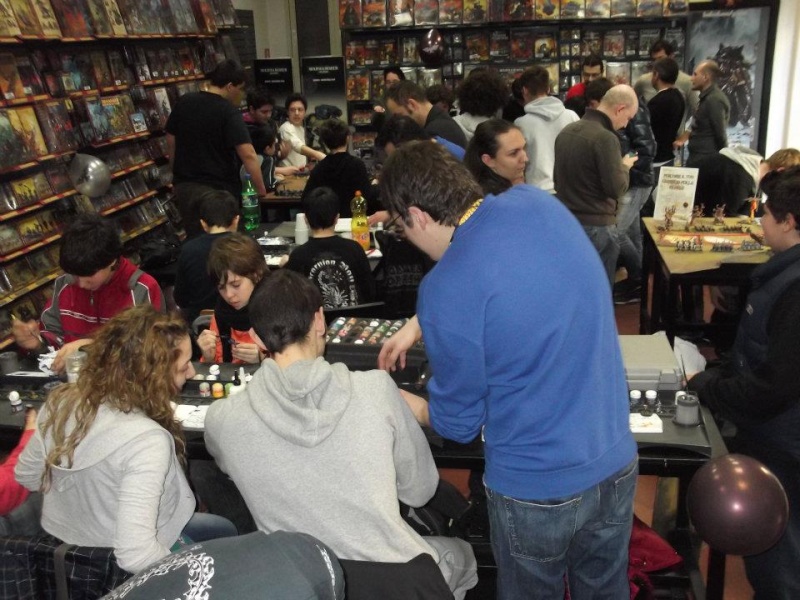 there must've been about twenty people gathered around the main table, all playing at the same time. It was utter chaos, but everyone was having a blast. I'll be honest, competitive play is not their scene here. A typical competitive italian list consists of a single death star unit, its delivery system, and a few supporting units (death company, thunderwolves, and GK Paladins are local favorites), you can pretty much focus fire or kite their main unit the entire game, and it's all over. More often than not though, lists are built on the basis of how fun they would be, or to fit a narrative. There was one kid who would always fit as many dreadnoughts into his lists as he could (he ran BAs, so it was a few) because it fit the fluff for his chapter. I know it's not something one has to do to play, but sometimes it's interesting to see what happens when somebody's running their army and tactics according to how they would function in narrative, not strictly by sound tactics. I haven't encountered many major personalities, most seem to be the GW operators, but i have met a few high rollers. One was helping some of the local kids pick out the best and cheapest proxy models to use as space marines, and another took one of the newer players to a nearby print shop to make some of those paper 'nids. proxying seems to be a big no-no for our high profile players, but these guys were embracing it. maybe it's because it was kids playing, or maybe they just see it differently... i don't know. Apocalypse is the way of things here. Honestly, every shop i've been to in rome sends me at least three notifications a week that there is an apocalypse game going down that day. granted, these aren't heavily planned out affairs: you're given a point total, build your army, and show up to play... sides are chosen at random when you get there, as is the team leader, and then you start rolling dice. any uneven teams are balanced out with an army that the store owns. i believe this is where italian gaming culture really shines, they don't care what you bring to the table, as long as you come to the table and play. There was one instance where a kid had come to play fantasy with an army of bretonians, and his opponent had to cancel on him. instead of letting him go home without playing, the 40k guys decided to let him play in their apocalypse game, letting him use his bretonians with most of their stats (using 40k movement rules and space marine saves instead of fantasy). It's pretty much an anything goes environment, as long as everyone walks away from the table having had a good time.
Now don't get me wrong, i'm not denouncing the tournament scene or competitive play, I'm as competitive as they come (that tau guy i mentioned earlier? i gave up three KPs and wiped the table with him) i just feel like there is, for lack of a better term, a lack of wonder in the hobby. it seems that no one sits down anymore and asks the age old question: what would happen if ________? we just sit down and crunch the numbers till we have the most statistically plausible result (again, guilty. I've done the math to find out which point you should switch from purifying flame to hammerhand against most common targets), but it's putting the models on the table and actually playing it out that brings it into the realm of the hobby, rather than basic math. I understand that between here and home there is a major demographic difference, and i will even go so far as to blame video games (MW3 here is 60 euro, [roughly $100] for that you can get your basic 2 troops and an HQ... it's just more cost effective not to play video games here in general) but the fact remains that we need both the competitive and social aspects of gaming, or it'll burn us out. Often, the burnout happens because players get tired of the game, tired of tweaking a relatively changeless optimized list, tired of playing against the same old things, or tired of cutthroat competition. the solution is often either getting a new army or shelving the models, often for years. I want to believe that no one starts out playing warhammer as a power player, that somewhere along the line you saw the models, or the fluff, or (these days) DoW or Space Marine and thought, "How cool is that?" and from there you picked up the hobby. I think every player that has held onto it, and embraced it still has that sense of wonder in there, even the hardcore tournament players. everybody has that urge deep down to charge a five man purifier squad into a green tide, or take on a trygon with a tactical squad, not because you'll win, but because how cool would it be if you pulled it off?

Tournaments have their place, and they are an excellent part of the gaming culture, bringing together players from all over, but they shouldn't be the driver of the game. nobody started playing warhammer because they wanted to win prizes or be called an 'ard boy (well, maybe if you got really into Orks you wouldn't mind being called that), they got in because they thought it was cool. The driver should be playing: competitive, narrative, social, and the most important: introductory... because potential new players won't ever be saying "hey, i want to win prizes," they'll be saying "how cool is that?"
and if you don't believe in the power of coolness over tournament viability, ponder this: there are still Tau players in the world.
*a note, apologies for the philosophical turn that this took towards the end, feel free to agree/disagree/ignore, whatever. and also to any tau players, i don't mean to offend with the parting statement, just pointing out your resilience in the face of adversity while living with a less than stellar codex